Commercial Metal Buildings: Upgrade Options & Add-Ons
---
---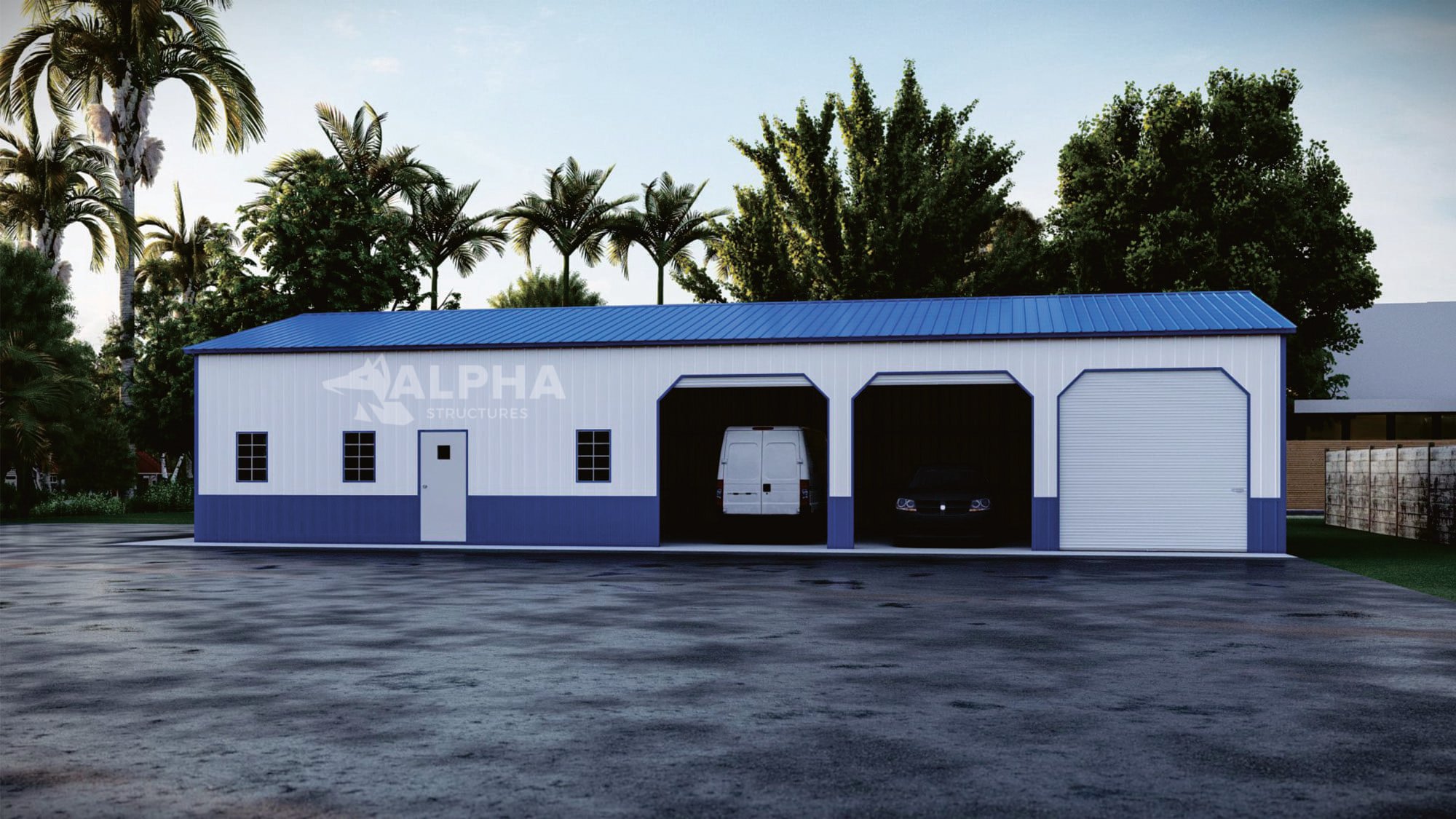 There are countless different types of upgrades and aftermarket add-ons for commercial metal buildings. Think of it like building a home. The extent of customization is only limited to your imagination—or budget.
A few standard upgrades offered by metal building installation companies or aftermarket providers are:
Entry doors

Rollup & bay doors of varying size

Electric doors

Windows & skylights

Steel gauge upgrades

Insulation

Wainscotting

Lean-tos
Generally speaking, when you purchase a metal building, the starting price is for the structure itself. Then, you customize it with the company's building specialists to work out the specifics of entryways, windows, insulation, etc.
Choosing the right features will increase your workflow and safety while enhancing your comfort and convenience.

Commercial Metal Building Entryways – Coming & Going
You, your customers, and suppliers need access to your building by vehicle and foot if your commercial-sized metal building is used as a place of business. Proper door sizing and placement are essential for efficient, economical operation.
Rollup Doors
Popular sizes are 9x8 and 10x8, up to 10x10 for larger trucks.
Note: Rollup door dimensions are given in width x height in feet.
Available sizes include 6X6, 6x7, 8x8, 8x7, 8x8, 9x8,10x8, 10X10, 10x12, 10x14, 14x10, 12x10, 12x12,12x14,14x12, 14x14 , 14X16, and 16x14.
Note: Larger rollup doors, 12x10 and up, are operated with a chain.
Colors: Most doors come in a basic white or primer coat. However, additional color choices may be available. Please check with your building specialist to see if there are colors to match or complement the existing structure.
Walk-In Doors
It may be advantageous to place multiple walk-in doors around your building to improve access, convenience, and safety. The standard is a 36" wide x 80" tall hinged pedestrian door.
Most metal building installation companies don't offer pedestrian doors rated for security. So, if you plan on storing valuables inside of your commercial metal building, it's usually best to plan on framing-out the openings where you want and installing a separate, more robust door after installation.
Windows for Metal Buildings
"Windows can have a significant impact on building operating costs, health, productivity, and occupant well-being... By providing natural light, windows can reduce electric lighting loads." —commercialwindows.org
Most commercial metal building installers offer standard white windows with a grid and screen. Popular sizes include, 24"x30", 30"x30", and 30"x36". However, many choose to have the openings framed-out for custom windows of their choosing.
Commercial Metal Building Wainscoting & Interior Paneling
The benefits of these decorative steel panels installed on the lower section of a commercial metal building include:
Increased aesthetics

Reduced wall dings

Easily replaceable

Relatively inexpensive
Typically comprised of three feet of bottom paneling, these 29-gauge panels can be vertical or horizontal. Commercial panels are automatically vertical, but horizontal wainscotting can be a free upgrade at Alpha Structures.
Metal Building Steel Sheeting Upgrades
Instead of just adding upgraded wainscotting, you may choose to upgrade al of the panelling in your commercial metal building. Increased thickness not only adds strength, but it gives your building a high-quality look and feel.
Exterior
Upgrading from 14-gauge to 12-gauge galvanized steel will improve the strength of your commercial metal building. It is considered to be twice as strong—resisting wind loading and other climatic conditions.
Interior
Upgrading panels from 29-gauge to 26-gauge will increase the robustness and overall quality of your commercial metal building's interior.
Attached Lean-Tos
The addition of a lean-to is an excellent place for people to gather out of the weather. Whether it's a place for employees to have lunch or to protecting your pedestrian entrance from the elements, an attached lean-to makes a great awning or porch area for your metal structure.
They are also an excellent, economical way to increase your overall storage area without technically adding to the commercial metal building's clearspan.
Lean-to Sizes
A 10 to 20-foot wide Lean-To can be the whole length of the building, or half, or just a 10-foot porch area.
For comparison, it's probably about 25% cheaper to build a 30-foot clearspan building with a 12-foot lean-to than building a 42-foot clearspan building—even if you choose to enclose the lean-to area.
Insulation & Moisture Protection
You generally construct a building as a place of work, or where products or goods are stored. Therefore, it's crucial to control the temperature and the dripping from condensation. Insulation plays a key role here.
Types of Insulation & Moisture Protection
Below are eight metal building insulation options for your consideration. It's essential to know how your building will be used as you make your selection:
Double-Bubble Insulation:

This is bubble wrap for a metal building. If you want to avoid condensation and accumulation of sweat on the inside of your panels, then bubble wrap insulation is an excellent primary choice. It can be coupled with other insulation types for more effective R-values.

Compressed Two-Inch Fiberglass Insulation:

This is an affordable way to get minimum heating and cooling standards. It's essentially 6" fiberglass compressed to 2" valued at R-8. When used with double-bubble, it's usually sufficient for most workshops.

Spray Foam:

This popular and versatile form of insulation comes as a liquid polymer, often polyurethane, that, when sprayed, expands into a solid foam. The air-filled cells within the foam give it excellent insulation properties. Spray foam applies easily, even in areas with unusual shapes or obstructions.

Batte & Blanket Insulation:

This inexpensive insulation choice is made of rock wool or mineral fiber and works well in metal structures. You must install it carefully for full effectiveness.

Loose Fill:

Loose-fill insulation consists of insulation clumps (loose fibers or fiber pellets) that an installer blows into the wall or ceiling cavities. It is an uncommon option for metal buildings, and installation can be expensive. However, some people prefer it because it insulates corners well.

Exposed Fiberglass Rolls:

Homeowners love fiberglass rolls because they're inexpensive and easy to install. This material can be installed by a non-professional; however, they must wear proper PPE. Fiberglass rolls used in commercial metal buildings must conform to NAIMA 202-96R (Rev. 2000) regulations. The soft batting of this material sometimes attracts nesting bugs, rodents, or birds. It may also absorb moisture.

Rigid Board Insulation:

This insulation is sourced from polyurethane, fiberglass, or polystyrene and is used to insulate flat roofs.

Insulated Panels:

A foam core sandwiched between two metal panels is used to produce this insulation material. Although more expensive than other insulation options, these panels offer excellent insulating properties, fast installation, and a pleasing appearance.

Reflective Foil:

Radiant barriers are an essential component for attic spaces and interior walls to prevent heat gain/loss and protect the structural metal from trapped moisture and condensation. Also called vapor barriers, they are made from a foil-like material with a reflective surface. They are mainly used to prevent heat transference and mitigate condensation.
Alpha Structures offers and installs only the first two insulations listed above as add-on options:
Double-bubble, which is specific for sweat, and moisture protection

Two-inch fiberglass
Both represent a good value for the money. Please contact a third-party insulation installer to learn the costs and lead time for the other insulation materials listed above.
Aftermarket Add-Ons
Skylights are popular but can be problematic for leakage; therefore, Alpha Structures won't install them. But, we are most willing to frame-out any opening for your skylights.
Electric Doors are also typical for the same reasons that people love them for their garage at home. They provide convenient access to the building without the need for physical action.
Drip Stop-type moisture protection is an excellent preventative measure when temperature and humidity reach the dewpoint, causing moisture to condense on a metal roof's underside to form drops of water. The drip stop traps this moisture to reduce or prevent damage to the contents of the building.
Lighting, Fans, AC Units, and Heaters are also common aftermarket add-ons.
These are some of the most common metal building upgrades and aftermarket add-ons. However, there are countless options when it comes to customizing your project. If you would like to hear more ideas on planning and customizing your metal building, chat with a building specialist at Alpha Structures today.