Don't have time to read the whole article?
Download a copy for yourself and read it on the go.
What Are Commercial Metal Buildings?
By definition, a metal building must be built to local commercial standards when used as a business of any kind. At Alpha Structures, we also consider any structure with a clearspan (width) over 32 feet as a commercial metal building.
This is because the engineering standards change after a 32-foot clearspan. The trusses need to be stronger to support all of the extra center load created by additional width. For example, a metal building that is 24 feet wide and 100 feet deep wouldn't need to meet commercial truss and load standards, but a 40-foot wide by 60-foot long building would, even though they are both 2400-sqft structures.
With this in mind, the orientation of your building should be taken into consideration. So, the answer is: a commercial metal building is any metal structure intended for commercial or industrial use or any metal structure with a clearspan 32 feet or wider. Once the clearspan reaches more than 80-feet-wide, Alpha Structures considers them specialized commercial buildings, as the engineering and safety standards become even more stringent.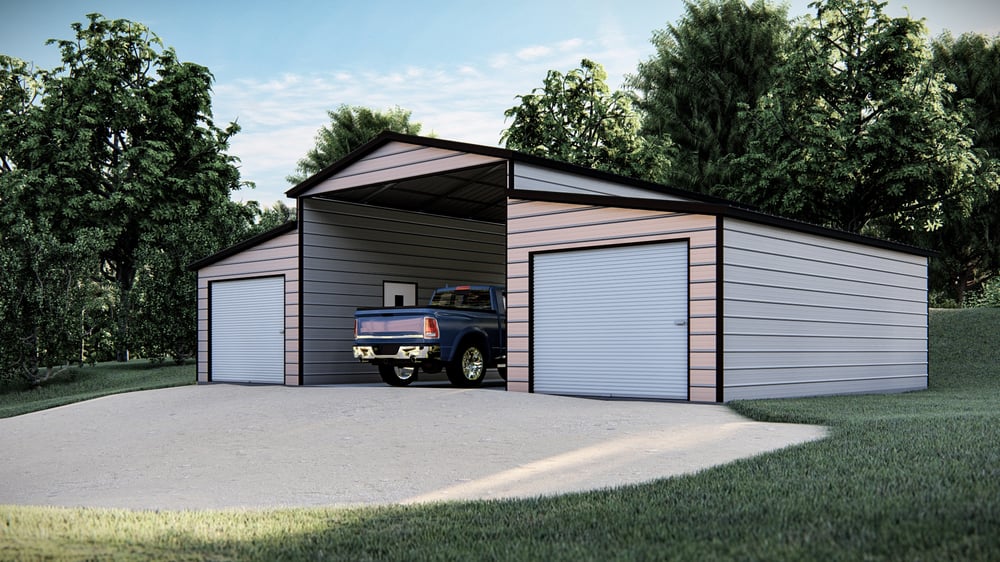 What Are Types of Commercial Metal Buildings?
Commercial metal building types are as varied as their available sizes.
Agricultural metal buildings and horse barns shelter livestock, store harvests, and provide storage and workspace for agricultural operations. Their sizes range from that of a single-car garage to a barn with stalls for horses and livestock, while others have second-floor living areas and massive riding arenas.
Metal garages store cars and equipment and provide workshop and storeroom space. Their sizes range from a 24x30-foot, two-car metal garage to three-car garages; some metal garages even include office space or an apartment.
They offer 12-foot-high doors to accommodate a variety of vehicles. Even though it's just a garage not intended for business purposes, once it's wider than 32 feet, Alpha Structures defines it as a commercial metal building because the engineering standards become more stringent to support the additional width.
Metal office buildings provide a spacious, climate-controlled place for employees to work. Manufacturers design these buildings to fit your specific layout requirements and personal style, customizing industrial buildings to meet your exact needs—whether you want an airport hangar, a warehouse, or a manufacturing facility.
Planning a Commercial Metal Building
As with any building project, purchasing and erecting a metal building requires planning. The better you plan your project, the more successful it will be.
Planning includes calculating the correct building size, setting your budget, developing an engineered plan and blueprints, securing required permits, and choosing building materials, insulation, doors, windows, and foundation.
Develop a wish list for your building. Decide where to situate the building and how you plan to use it. How big will it be? Where do you want windows or doors? Armed with a preliminary plan, consult a commercial metal building engineer to create a design that meets your needs and budget.
Most available manufacturers have engineers on staff to bring your ideas to life. These professionals produce customized designs that comply with local building codes and load requirements. Once you pay engineering plan fees and put down a deposit, it's time to secure a building permit.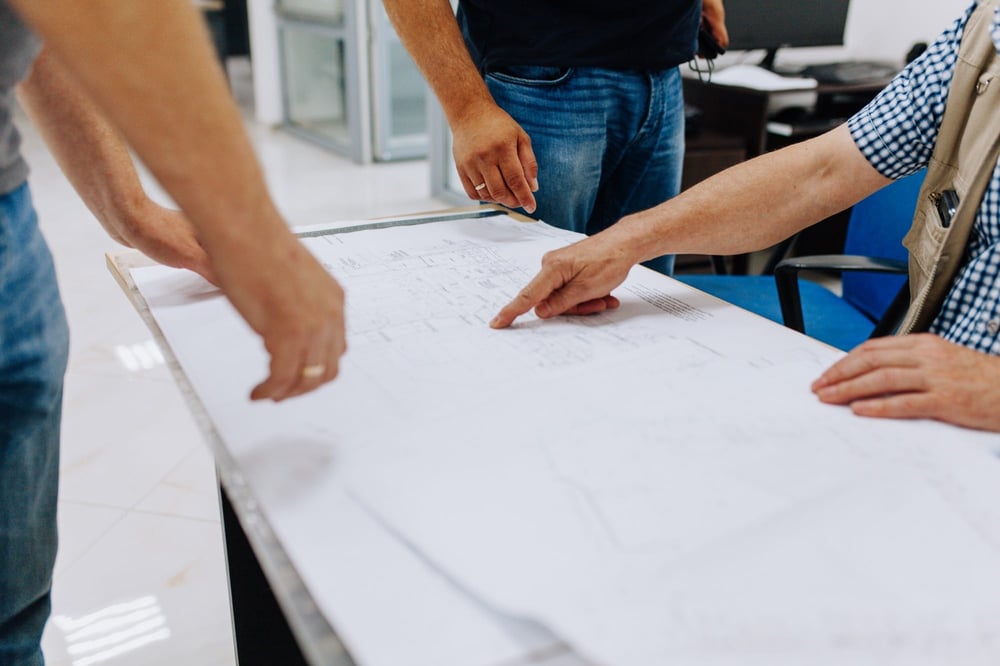 Get the Permits Needed for Your Commercial Metal Building
Permit laws vary from state to state and municipality to municipality. It's important to review local laws before installing a metal building.
Most local municipalities require a completed application and engineered structural plans to pull a permit. Structural plans provide detailed information about the metal building: how it's constructed, how it's connected, where it's welded and bolted together, and how it's drilled into the ground.
The permit application requires details about the commercial building's foundation, which for metal buildings can be gravel, dirt, wood, or concrete, depending on its size. For best results, your commercial metal building should rest on a concrete slab. At the very least, every commercial building needs concrete strips around the outside base, though you may prefer a concrete pad to dirt or gravel.
Local authorities also require a site plan for land improvements. A site plan is an architectural plan, landscape architecture document, and detailed engineering drawing of proposed site improvements. The site plan shows a building footprint, travel ways, parking, drainage facilities, sanitary sewer lines, water lines, trails, lighting, and landscaping and garden elements.
Amenities
The amenities you include also need permits. You will need plumbing, mechanical, and electrical permits for buildings with restrooms, kitchens, HVAC, and electricity.
It's a good idea to hire an architect if you plan to live in your commercial building. The International Building Code sets standards for dwellings. An architect helps you meet the required building codes.
Local Zoning Laws
Pay attention to zoning laws. Zoning classifies all land and buildings for specific types of use. A live/work commercial building requires a mixed-use zoning designation.
If the property lacks that zoning classification, you must work with local government to change it. States like California are strict about mixed-use zoning. Calling the building department in advance can save headaches down the road.
Certain states and municipalities also require a licensed contractor on the project. Completing required permit paperwork takes about three days and then another four to six weeks for local authorities to approve.
Calculate the Price of Your Commercial Metal Building
As you begin this process, a word of caution: it's important to first know what size building your land will support. You might pick a 40x40-foot structure then find your lot can only accommodate a 30x40 foot building. Know the lot dimensions and local requirements for placing a building to right-size your building.
Keep building height in mind too. A structure that isn't tall enough won't fulfill your needs, while a building that's too tall lacks shade and costs more to heat and cool. A rigid-frame building provides plenty of usable space and ample headspace. Ceiling heights range from 20 feet to 40 feet, with most commercial buildings favoring more height.
Building prices range from $20,000 to over $36,000. Popular commercial building sizes under $20,000 are 40x40 foot, 40x50 foot, and 40x60 foot. Larger buildings average $36,000 plus. It ultimately depends on building size, the number of windows and doors, the insulation used, and creature comforts like electricity, plumbing and HVAC.
Metal commercial buildings offer lower costs and affordability than wood. Metal averages $11 a square foot to build, less than half the cost of a wood building. In fact, an Alpha Structures client in Michigan reported that estimates for 60x80-foot wood buildings were twice that of a metal building.
You can expect to pay around the following for buildings of these sizes:
40x60 foot building - $36,000
32x40 foot building - $20,000
50x100 foot building - $70,000-$80,000 on the East Coast and $80,000-$90,000 on the West Coast
Commercial Metal Building Blueprints
Yogi Berra once said, "If you don't know where you're going, you'll end up somewhere else." Your metal building blueprints guide you to your destination: a well-designed and constructed commercial metal building.
Pre-engineered metal building blueprints show how building components fit together and assemble. Most engineered plans are 10 to 20 pages long, with each page zeroing in on specific plans and focal points. Plans are site-specific, and some come with a metal liability and warranty.
Blueprints also include a cover page that shares structure specifications and details about how the commercial steel structure meets specific building codes. The cover page also includes the building application, your name, the building site, and the completed building's description.
You need a metal liability and warranty for your building. Whether you hire an outside engineer or use a supplier's engineering staff for blueprints, it's important to make sure these experts carry professional and general liability insurance. Also known as error and omissions insurance, this insurance protects engineers and users against faulty designs.
Most manufacturers set a one-year workmanship warranty on custom commercial metal buildings. They also may offer a 10-year panel warranty against chipping and cracking and a 20-year rust warranty.
When preparing plans, you must declare intended use in advance. Failing to do so voids engineering plans, puts liability on you, and requires engineers to revise the plan. Inform engineers if you plan to live in your commercial building. This ensures plans meet all state, local, and federal building codes and requirements for dwellings.
California and Nevada building codes and regulations are very stringent. It's wise to do some due diligence upfront and call building officials to learn what they require in building blueprints.
Commercial Metal Building Materials
Manufacturers can construct your commercial steel building from almost any metal. But for strength, durability, low maintenance, and longevity choose a manufacturer who uses steel coated with anti-corrosive agents that protect against rust.
Steel Choice
Steel grade (quality), gauge, and depth of panel corrugation matters. The thicker the steel and the deeper the corrugation, the stronger your building.
But the grade (the steel's tensile and yield strength) also makes a difference. Higher grades minimize tearing and deforming. Grades range from 40 KSI to 80 KSI.
Likewise, a thicker gauge (between 26 and 12 gauge) ensures your metal building withstands heavy snow and high winds.
Trusses
Trusses are "V" shaped support systems that brace the walls and roof of commercial metal buildings.
Companies use different trusses of different sizes and styles depending on building size. Buildings of 10 to 30 feet use single-tube trusses, while larger buildings need zigzag or ladder-style trusses.
Anything over 40 feet requires a ladder-style truss. Contractors place single-tube trusses every 10 feet while they put other styles closer together, which uses more materials and increases costs.
Panels
Classic-style panels offer a rounded appearance, but you can also opt for panels with defined lines and edges for a contemporary look. Sliding panels should snap together, with fasteners hidden once panels are placed.
Most panels offer many color choices for a custom look.
Roof Materials
Engineers prefer vertical roofs for commercial steel buildings. This roof design is stronger than regular or boxed-eave roofs.
Vertical roofs allow water, snow, and leaves to run off the side to prevent rust and wear. Vertical roofs lay roofing panels vertically from the peak to the eaves.
Doing so requires a structure with an 18-gauge hat-channel that adds rigidity and strength. Pitches also vary. The standard pitch is a 3/12 pitch, which means the roof rises 3 inches for every 12 inches of its horizontal run. But commercial building manufacturers offer up to a 5/12 pitch.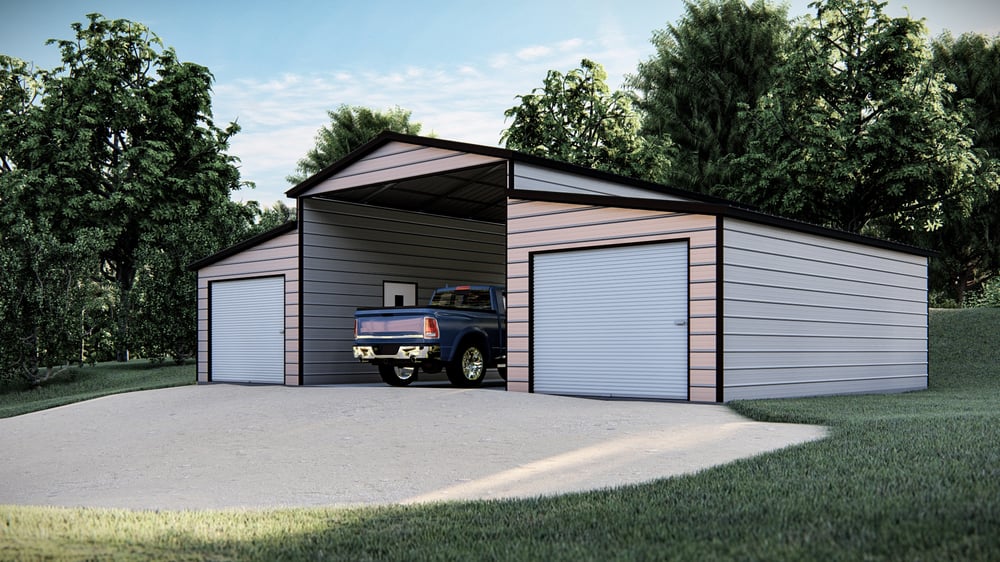 Commercial Metal Building Doors & Windows
Windows and doors play an essential role in the look and function of a commercial metal building.
Their shape, size, and location all warrant consideration. When employees work inside, windows and doors must insulate workers from heat, cold, and sound while also offering fire protection and energy savings.
Hollow metal doors are affordable and used in commercial steel buildings. Galvanized doors are great exterior doors, as they come in a range of colors and resist rust. Commercial steel doors offer superior endurance, security, and reliability. They do not crack, shrink, or warp and come in many colors.
Heavy-duty, commercial-grade, metal roll-up doors work well in commercial buildings used as warehouses or garages with loading docks.
Once you've chosen your doors, you must decide where they go. Check out building codes to make sure you have enough ingress and egress doors for safety. Your engineer will work to understand traffic patterns and flow within the business to meet codes, structure requirements and place doors in a way that works for you.
Windows increase building prices and can only go in certain locations. When your metal building company creates a custom design, you can tell them upfront where you want windows, and they can move x-braces to accommodate your decision.
If it's not possible to modify the design, you may need to move a window elsewhere. Placing windows incorrectly can ultimately weaken a structure. Standard windows work best in commercial metal buildings. Installers can put them anywhere.
Metal-building-specific windows can only go on the sheathing—Single-hung, slim-line, and horizontal-side windows all work. You can choose between insulated or non-insulated windows depending on the building's use.
Insulating Your Commercial Metal Building
Though a variety of options exist, some insulation solutions work better than others for metal buildings.
The most popular insulation options are fiberglass insulation, spray foam, double bubble insulation, and prefabricated insulated panels.
Double-bubble insulation is basically bubble wrap for a metal building. This insulation helps control temperature and condensation.
Fiberglass insulation at 2 inches thick works well in metal buildings. It has an R-8 value, which is less than insulation used in a home (R-32 value).
Thicker fiberglass insulation can cause problems because single-layer faced fiberglass insulation may bubble up as it's stapled. It's best for minimal heating and cooling. Spray foam also helps close gaps between the base, corner, eaves, and around all panel terminations to keep the building airtight.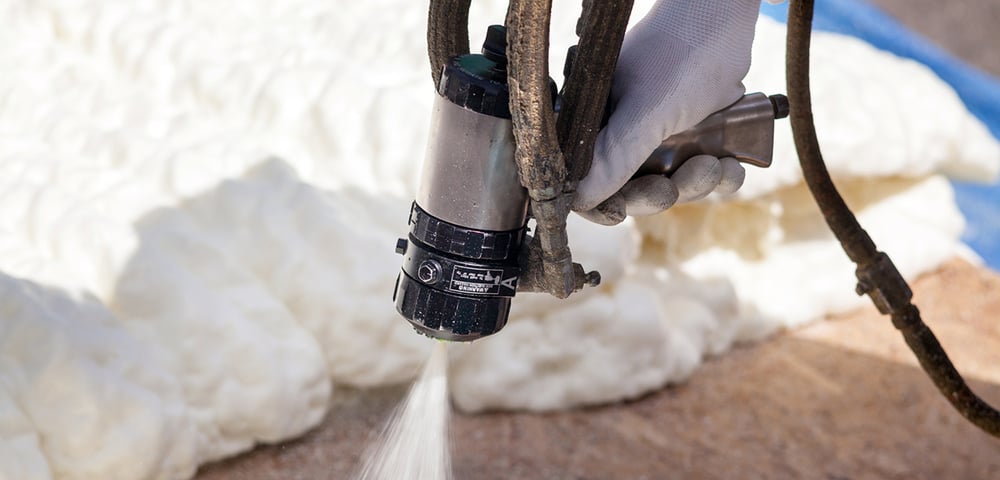 Most installers recommend adding spray foam after the building goes up. Spraying foam into the corners and little cracks prevents heated or cooled air from escaping.
Insulated metal panels also offer some benefits. Each panel comprises two single-skin metal panels and a foam core sealed at the sides. These prefabricated panels lock together to create building walls. They are more expensive than traditional metal building panels.
Work with your installer to choose the right insulation for your building and budget, then have it professionally installed. Your installer will insulate each section of the building as it goes up.
Commercial Metal Building Installation Timeline
Erecting a metal commercial building takes far less time than a wood building. The timeline varies depending on size, the assembly crew's experience, and the equipment at their disposal.
Larger buildings require a lift to put trusses in place. Expect shorter construction times for steel buildings because manufacturers prefabricate the pieces. An installer can erect a small commercial building in a couple of days and a larger building within a week.
A metal building must rest on a firm foundation. This requires preparing the site before installation starts. Leveling the area is the first step. Have your site professionally measured before purchasing a metal building to ensure you have adequate flat space for the building.
Hire a professional to level the site. A metal building's floor can be gravel, dirt, wood, or concrete, depending on its size. A commercial building needs concrete footing strips that meet local frost depth requirements around the building's perimeter, though a concrete pad with frost-depth footing is recommended.
Remember to pour concrete at least 72 hours before installation. Installing the building doesn't mean it's operational. Remember to also allow time for HVAC, electrical, and plumbing installation.
Finding the Best Commercial Metal Building Company
Nothing beats the strength and durability of a commercial metal building. But how do you find the right manufacturer?
The right manufacturer maintains a staff of qualified engineering professionals to walk you through design choices, permitting, installation preparations, and more. They will supply blueprints and other documentation for local building authorities.
After crews lay the foundation, your manufacturer will supply an installation date. They will call to confirm installation time five days prior to ensure someone is there on the day of installation. Weather permitting, the install should take place as scheduled.
Once your building is up and you're satisfied with it, call the manufacturer to review the installation team. Manufacturers want to know that their installers perform well and provide great customer service.
Foundations for Commercial Metal Buildings
A building without a firm foundation cannot stand. Your commercial building's foundation can be gravel, dirt, wood, or concrete, depending on its size and application.
At a minimum, your commercial building needs concrete strips around the outside base. This perimeter footing must be 18-inches by 18-inches deep for 24x24 and 24x48 feet buildings.
The right foundation resists load from the building and the climate, which makes the steel building more durable and ensures it stands longer. Your building engineer knows the requirements and guidelines for loading and anchor bolts. This information ensures the foundation supports the building well.
Footing design, also known as T-shaped footing, is a foundation that installs spread footings under each column in a steel building. Contractors install these footings just below the frost line. A slab-on-grade foundation, also known as a thickened-edge design, works well for smaller steel buildings. This design is economical for areas with lower frost levels.
Foundation types also warrant consideration. Metal buildings commonly use one of three foundations.
Floating Slabs: This foundation has one continuous grade with reinforcement at the bottom or that spreads under steel columns.


Footing and Grade Beams: The rectangular and square footings of this foundation get support from grade beams.

Drilled Piers: This foundation uses vertical piers instead of footings.
Your commercial metal building supplier will help determine the best foundation type and design for your metal building. Flood zones, soil, frost lines, building size, and application all factor into foundation selection.
Your commercial metal building represents a sizable investment that works as intended for your business. Getting your engineering plans, pulling permits, and then obtaining approval from your township can take several weeks. Because of this, many find that getting started with the initial deposit to lock-in the price of their metal building can protect them from fluctuating steel prices.
The right partner will walk you through the unknown, helping you plan a commercial metal building that lasts a lifetime.