MOST AFFORDABLE PRICE
Quickest Lead Times
Get the building you deserve – on time and on budget.

Whether you need it for home or work, we will customize the metal building you've always wanted at the right price.

Our team cuts no corners. We use materials and certifications that meet all state requirements, and make sure you know exactly what your building will look like – inside and out.
Clearance Metal Buildings for Sale
Clearance Metal Building Details
This compact yet roomy metal garage offers a surprising amount of space for an affordable price. Use this metal building for all of your storage needs, vehicle protection, she-shed or man-cave, small at-home office space, or anything else you're looking for that a simple and sturdy metal building can provide.
The price of this metal building is $8,690, but we are offering a limited time $500 discount, bringing the total price to just $8,190 plus tax.
Type: Metal Garage Style
Dimensions: 20x20x9, vertical roof
Comes Equipped With:
(1) 9x8 roll-up door centered on gable end
(1) pedestrian door
(1) window 24x30"
(1) walk-in door 36x80"
$8,190 plus tax (in southern states)
Would you like to add a prefabricated steel garage to your property? Are you concerned about the prohibitive cost? If so, we've got you covered. Alpha Structures is offering a rare chance to buy a clearance metal building for an exceptionally low price.
Clearance Metal Building Details
Type: Metal Garage Style
Dimensions: 24x30x9
Comes Equipped With:
(2) 9x8 roll-up doors
(2) windows 24x30"
(1) walk-in door 36x80"
$12,575 plus tax (in southern states)
With high ceilings and ample storage space, this clearance metal garage for sale has limitless possibilities. You can certainly park your cars inside, but the sizable dimensions also allow for tractors, motorcycles, or even a small boat. Keep your property safe and enjoy peace of mind with a dependable steel garage.
Discount Garage with Curb Appeal
Most people think of custom metal buildings as a costly addition to their homes. In reality, they are an affordable option that actually boosts the value of your property. Think of a discount metal garage as an investment in your home or business. The crisp colors and striking design of this 24x30x9 garage add curb appeal and functional space to virtually any property.
The roll-up metal doors and large picture windows provide natural light and fresh air. Install picnic tables and add landscaping to create a natural relaxation area. You can even set up a metal shop or studio and do your work from the comfort of your own home.
Save significantly by installing solar panels on the roof of your discount metal building. You will save money on utilities and become energy independent in the process. Add a greenhouse or hydroponic system and grow food in your new garage—you could even convert this two-car garage into a guesthouse and rent it for additional income.
Steel is a notoriously dependable building material. It is not susceptible to rust, mold, rot, or weather damage, so you can count on this clearance metal building to stay in good shape for many years.
Many supply chains were disrupted during the COVID-19 pandemic, which drove up the price of steel. Alpha Structures is discounting this brand-new two-car garage so that its price is lower than pre-pandemic levels.
Do I Need Concrete for this Clearance Metal Two-Car Garage?
This steel building will last for decades, so it's important to research whether you need a concrete foundation. For most metal garages of this size, concrete slab is not required. However, many people choose to pour concrete for security and peace of mind.
It is absolutely imperative to get your land professionally leveled before installation. Many people are discouraged by the upfront cost, but you will save money in the long run by avoiding needless repairs.
Be sure to check with your contractor to determine if you have additional local building regulations. These can differ between states, counties, and cities. When in doubt, simply reach out to your local zoning department to get more information.
Do I Need Permits?
As a general rule, buildings over 120 square feet require permitting. This particular discount metal building is well over that threshold, but you can verify local regulations with your contractor or local zoning department. If you happen to live in an unincorporated county, regulations may be more relaxed.
To clarify, Alpha Structures does not conduct research for your property and is not liable for any neglected regulations. We advise you to research local regulations and decide whether to pull permits. Once you've made a decision, Alpha Structures can support you through every additional step. With years of experience, we can provide you with the necessary documentation to get your building permits after the first submission.
How Much is this Clearance Metal Two-Car Garage?
Alpha Structures is a North Carolina-based company with extensive operation in the South. We can offer the competitive price of $12,575 plus tax in the states of Virginia, North and South Carolina, Tennessee, Kentucky, Georgia, Florida, Mississippi, Louisiana, Arkansas, and Texas.
Expect to pay about 20% more if you live in New Jersey, Pennsylvania, New York, Delaware, Massachusetts, Nevada, Arizona, and California. This is still well below market price, so don't hesitate to contact Alpha Structures with any questions or inquiries.
We offer fixed-rate financing up to $20,000. Set up a payment plan for this clearance metal building for sale and spread the cost over several months.
In case this particular metal building doesn't match your needs, please reach out to one of our qualified staff. We offer custom buildings that match virtually every specification. The sky is the limit when it comes to prefabricated steel buildings. Give us a call today!
Have you been looking for an affordable clearance metal building for sale to be used as your dream auto shop or workshop? Look no further—we are currently running a special on a metal garage unit that checks all the boxes for the perfect auto shop.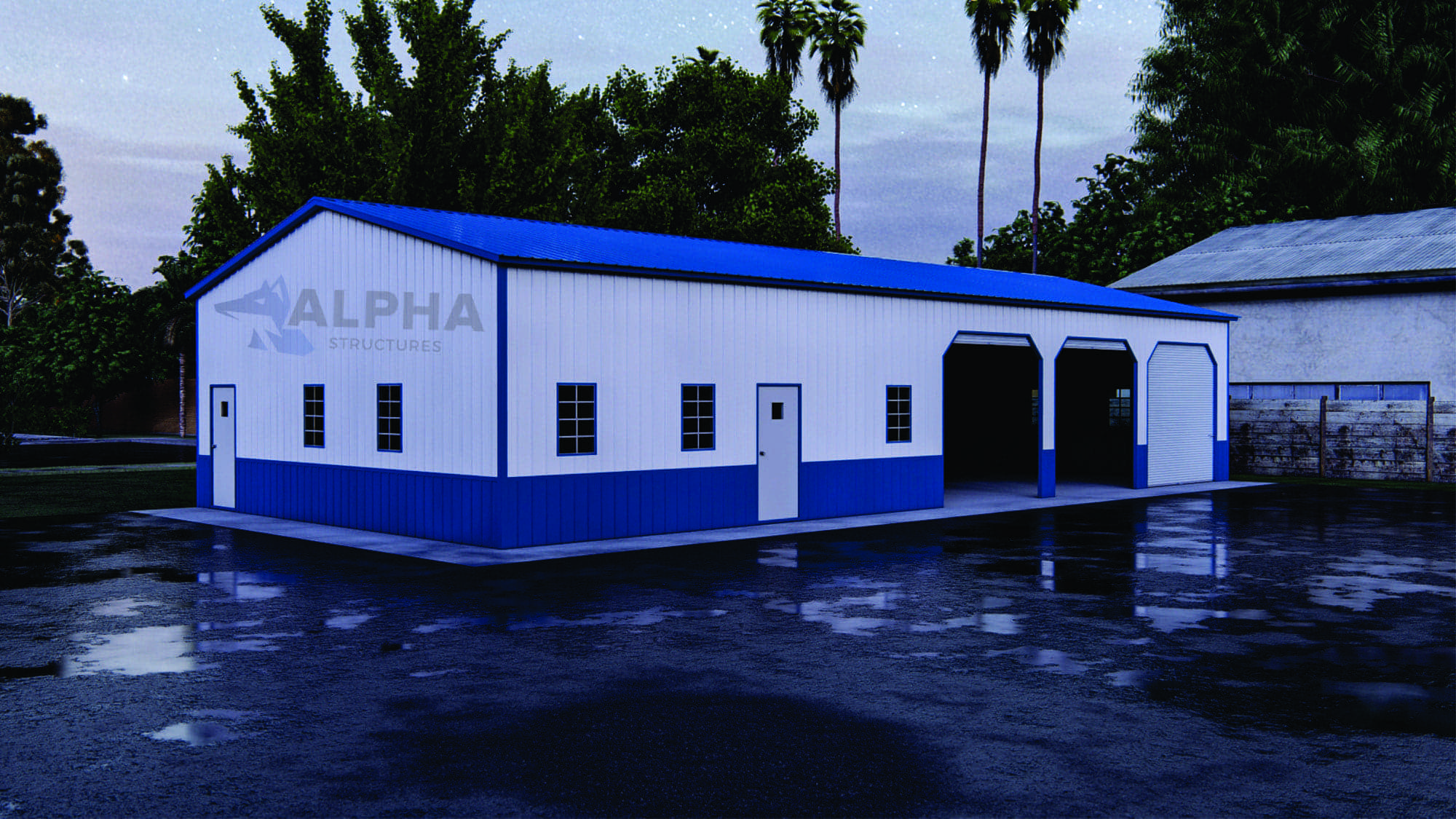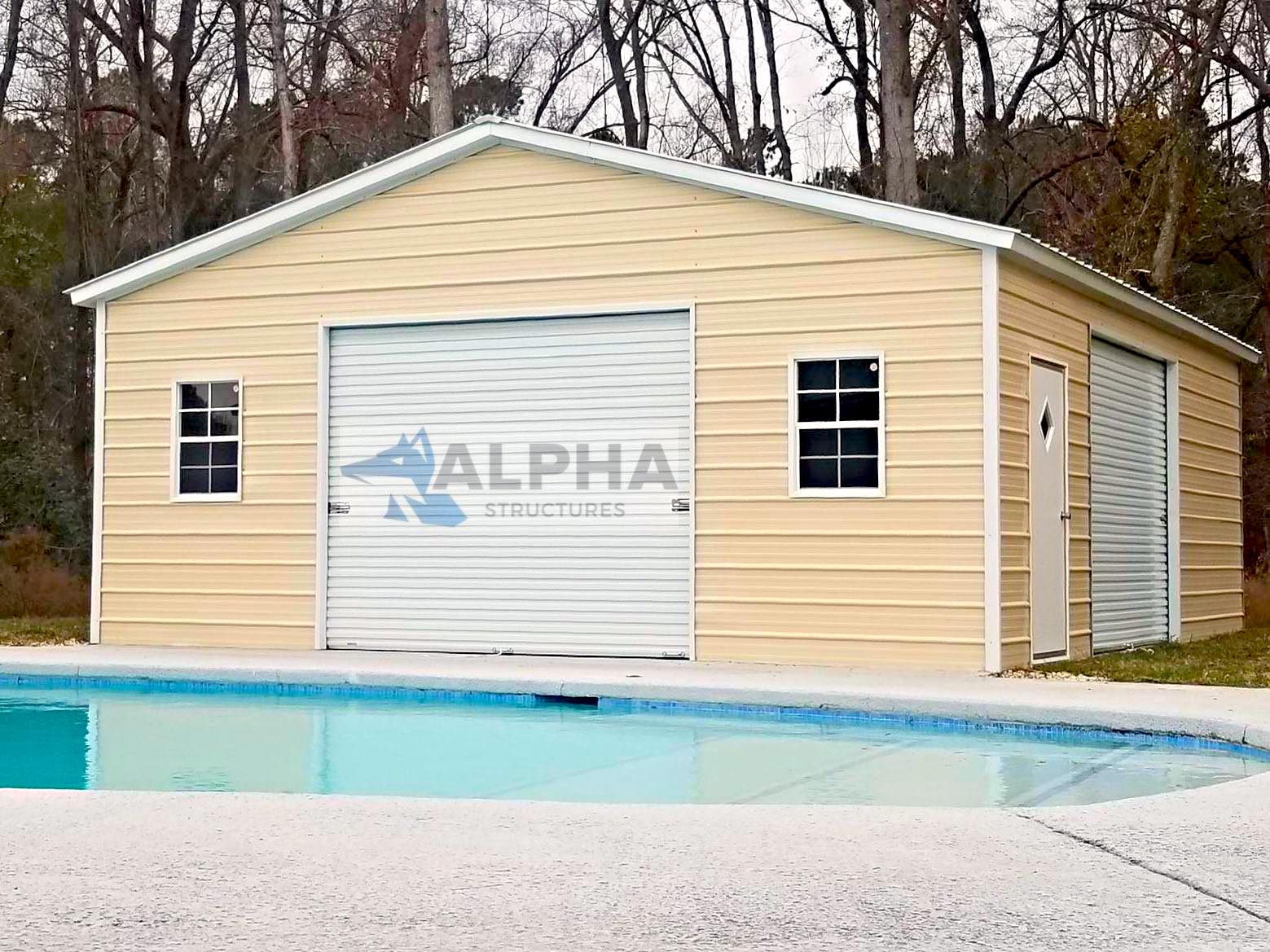 Clearance Metal Building for Sale: 24 x 30 Garage
If you have been searching for an affordable metal building on clearance, to use as a garage, storage facility, pool house, etc., this spring or early summer, you're in luck. We are currently running a special on a metal garage unit that is the perfect addition to any property—whether front and center in the driveway or tucked into the backyar
Clearance Metal Building for Sale: 20' x 26' x 12' Garage with 12 x 26 Lean-To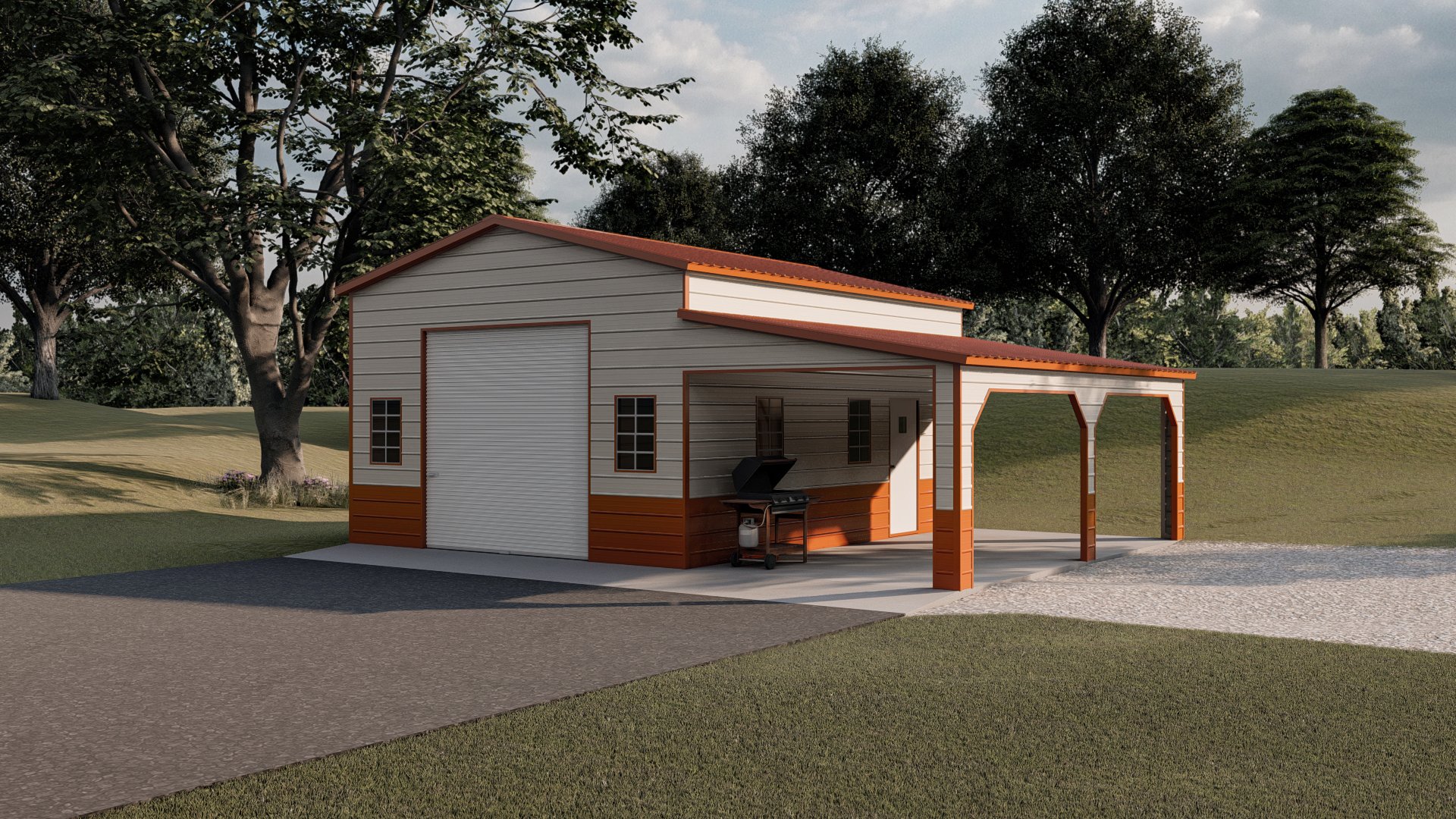 Have you been dreaming of an affordable garage that comes with plenty of storage space and doubles as an area for outdoor gatherings? Alpha Structures has you covered. We are currently running a special on a metal garage unit with a lean-to, perfect for grilling, get-togethers, and much more.
Clearance Metal Building Details
This metal garage lends itself perfectly to vehicle storage, boat storage, grilling, general gathering space, and more.
Type: Metal Garage Style with Lean-To
Dimensions: 20'W x 26'L x 12'H with a 12 x 26 Lean-to
Dimensions and features:
Three 10x10 roll-up doors

Four windows

One walk-in door

Spacious lean-to

Installation and delivery included

Just $12,335.00 installed + tax (in certain states)
This affordable metal garage is functional and has major curb appeal. It offers a wide variety of uses for an unbeatable price, without compromising aesthetics or quality. Many clients have enjoyed this garage for vehicle storage, boat or tractor storage, a picnic and grilling area, a kid's play area, a storage shed, and more.
Clearance Metal Garage Uses
Get creative with your new clearance metal building by considering the following uses. Some of them are a little out-of-the-box and might reveal new possibilities for how you could put your new space to use.
Car Storage
The most obvious use for this metal garage is vehicle storage and parking. The inside dimensions provide ample space for car storage and additional storage space around your vehicle. The lean-to is twelve feet tall, so it can easily protect a second car.
Boat, Tractor, and Other Storage Space
The outside lean-to is also tall enough to protect a small tractor, or another piece of equipment that needs coverage. The word 'carport' is a bit of a misnomer, as there is ample opportunity to store motorcycles, jet skis, and boats. We hear from many boat owners that their garages are crowded or they end up paying for expensive monthly off-site storage—with an outside lean-to, those problems are easily resolved.
Covered Picnic or Grilling Area
This metal garage's spacious lean-to is ideal for outdoor picnics, grilling, and all sorts of gatherings. You'll be shaded from the sun and sheltered from the rain. You can beautify your space by adding a cozy chair and table set, lounge chairs, potted plants, or anything else you'd like to make your space an extension of your home for year-round family fun.
Employee Break Area
If you are considering this clearance metal building to use at the workplace, you now have some excellent options. The indoor garage space could easily be used as a small office, and the outdoor area as an employee break space. Just add a few picnic tables and plants, and your staff will enjoy relaxing and recharging—a win-win for everyone!
Outdoor Kitchen
Especially in the warmer months, the outdoor area of this metal garage is ideal for enjoying your morning coffee or a beer at night, cooking for family and friends on the grill, and having meals outside. Consider adding an inexpensive camp stove for a fully functioning outdoor kitchen!
Man-Cave or She-Shed
Have you always wanted a man-cave or a she-shed? Now you can have one for an affordable price, and your quality of life is sure to improve! Use your space as a getaway from daily routines and stressors, whether that be to make art, play music, watch sports, create a game room for kids (or adults), or anything else you dream of.
Three Metal Garage Benefits
Check out these three major benefits of a metal garage compared to a traditional wooden structure:
Safety and durability
Whether you are storing vehicles, boats, or other valuable equipment and personal items, safety is a huge priority. Metal buildings are naturally much more resistant to inclement weather like winds, earthquakes, fires, and heavy rains. Steel is also resistant to termites, and far less likely to rot, mold, or crack.
Low maintenance costs
Not only are metal garages drastically less expensive than wooden garages, but their long-term maintenance is far less demanding. Metal doesn't require restaining or repainting and can be easily cleaned with a pressure washer or hose.
Quick installation
A small metal garage can take as little as one or two days to install—it's that quick! You can also consider installing it yourself, but we recommend having experience with construction, as the metal garage kit does not come with detailed instructions. With the current special on our clearance metal garage, professional installation is included.
Lean-To Height Considerations
It's important to note that with any metal garage or metal building, the lean-to drops three feet at the edge from its maximum height. With this clearance metal building, the twelve-foot lean-to slopes down to ten feet, and the bottom edge measures seven feet. This might be a consideration for tall people, as you should ensure your height won't make walking in and out of your metal garage problematic.
How Much is This Clearance Metal Building?
This clearance metal building costs $12,335.00 plus tax in the following states: West Virginia, Virginia, North Carolina, South Carolina, Georgia, Ohio, Kentucky, and Tennessee. Prices may vary in all other states.
At Alpha Structures, we also offer fixed-rate financing up to $20,000. Call us directly using the button on the top of this page or click below for a personalized metal building quote.
✅Financing Available
✅We customize to your needs
✅We price match
✅20-year warranty
✅Fast delivery times
Prices vary slightly by state. We do not do groundwork or pull permits.
Call 📞888-370-8471 or send us a message.
WHY ALPHA STRUCTURES?
You want a metal building that's tough enough to withstand the test of time and mother nature. You also want a builder that's easy to work with and responsive to your questions. We provide both.

Our team will work closely with you throughout the entire process to make sure you are confident and comfortable with the final design. You'll receive a 3D model of your building before we start work, making sure it satisfies your vision.
Quickest Lead Times
SERVICE AREAS
DEALERS ACROSS THE U.S.
Building codes vary across different regions,and we know exactly what each state requires.Our buildings can withstand 140mph wind gustsand 35psf of snow load. Our structures inCalifornia are rated 120mph and 20psf. Even ifyour local codes require additional strength, wewill meet or exceed them.