Most Affordable Price
Quickest Lead Times
Get the building you deserve – on time and on budget.
Get the space, convenience, and security that can only come from a private metal building on your property. Wooden sheds crammed to the ceiling are a thing of the past. With aggressively priced prefab metal buildings and the flexibility of custom design, what are you waiting for?
Our team cuts no corners. We use materials and certifications that meet all state requirements, and make sure you know exactly what your metal storage building will look like inside and out.
Types of Metal Storage Buildings
Custom Metal Storage Buildings
Custom doesn't have to mean more headaches and costs. That's especially true with the unmatched Alpha Structures client support and project streamlining. Choose your width, length, height, color, and more to complete the perfect design. Have a budget in mind? We'll work with you to maximize every dollar.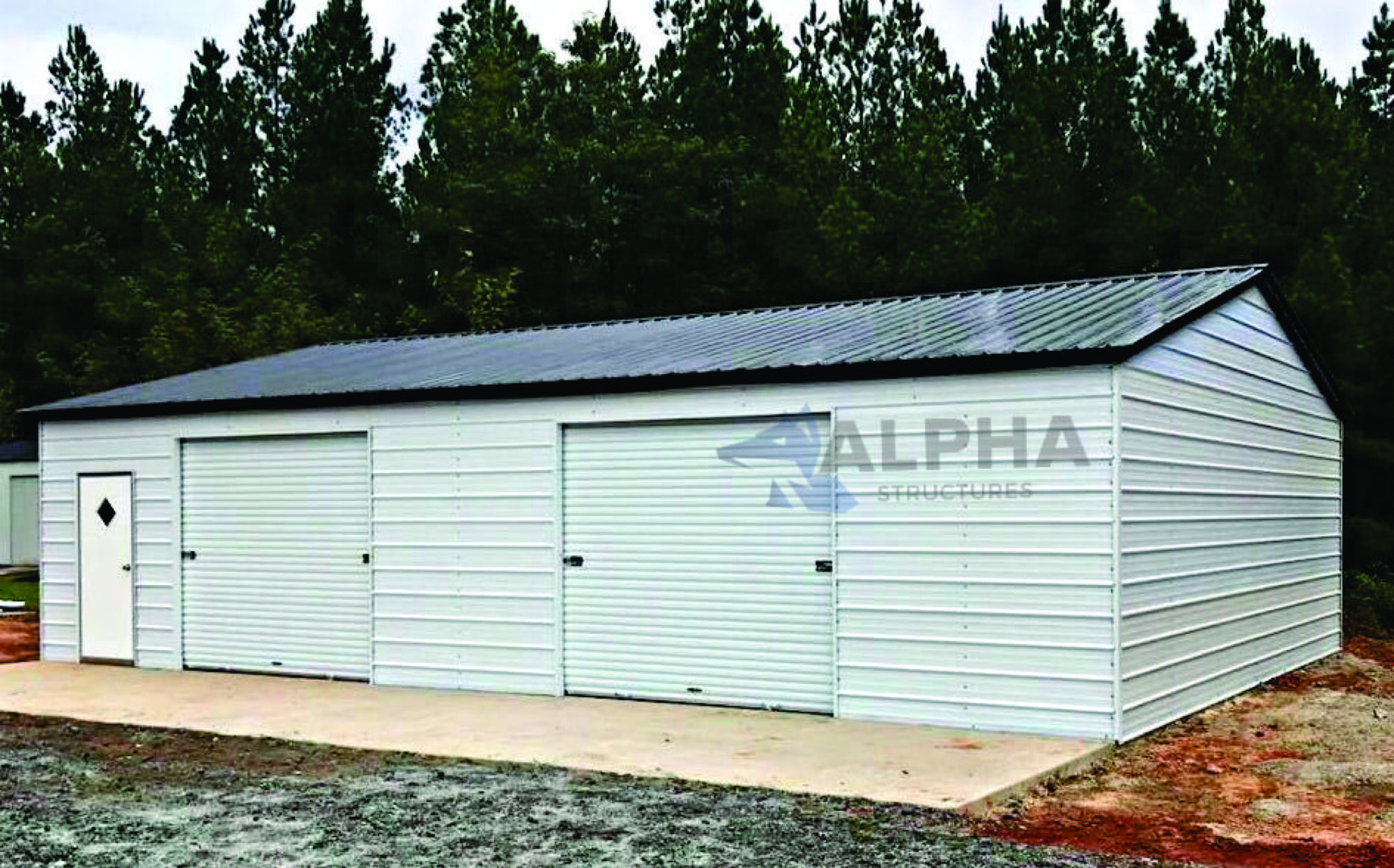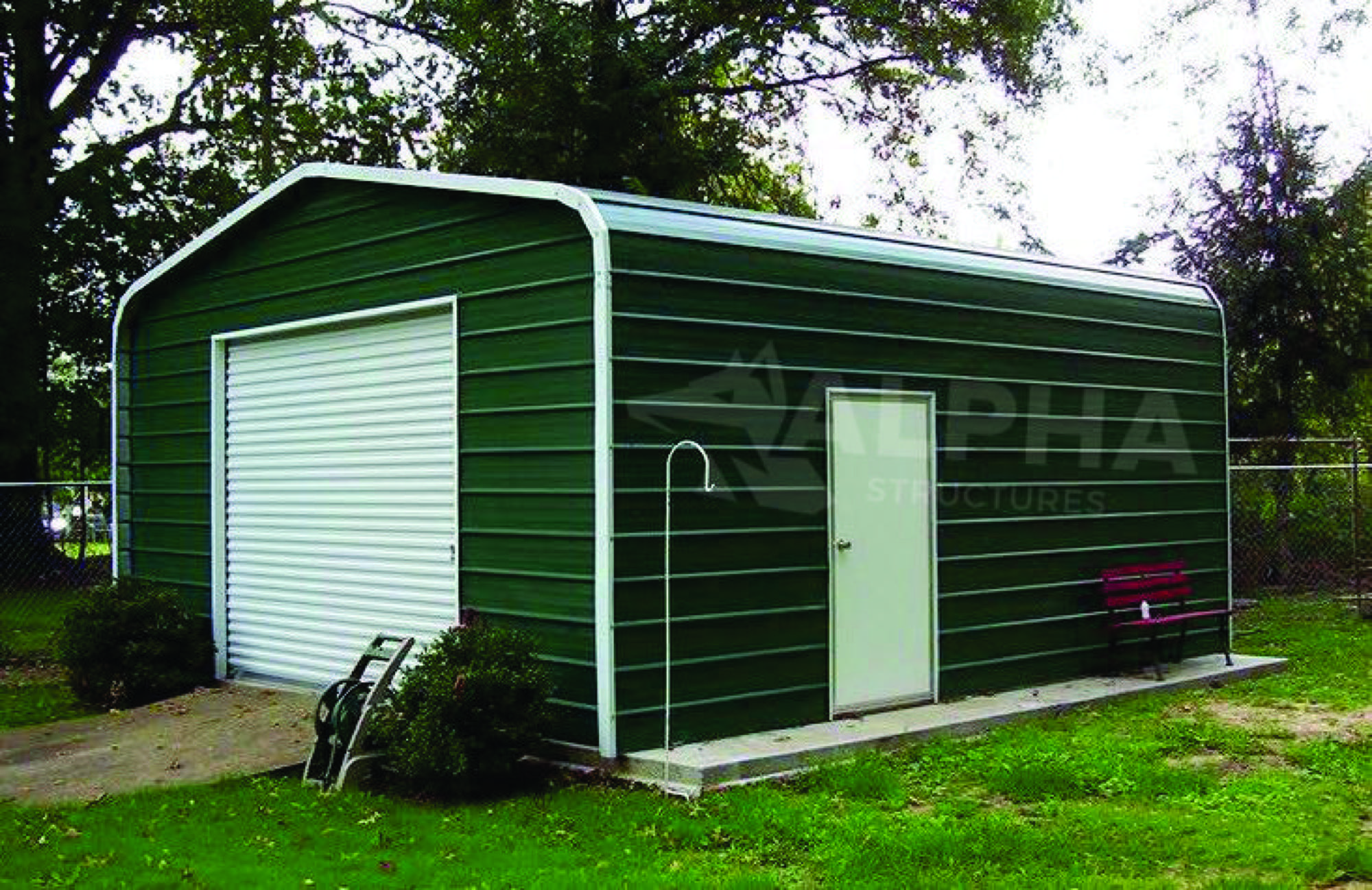 Prefab Metal Buildings
Pre engineered metal buildings are cost effective and low hassle options to increase storage on your property. These prefabricated buildings can still offer a variety of size, color, and design options to ensure you can cover what's important. Through our modern sourcing and construction approach, Alpha Structures delivers the storage you want at the prefab metal building price you deserve.
20x20 Metal Building
With the size of a small garage, the 20x20 metal building adds substantial and well protected storage space to your property. Owners often find enough functional space for a small work area, as well. Clear out some area in your current storage rooms with a tough 20x20 metal building.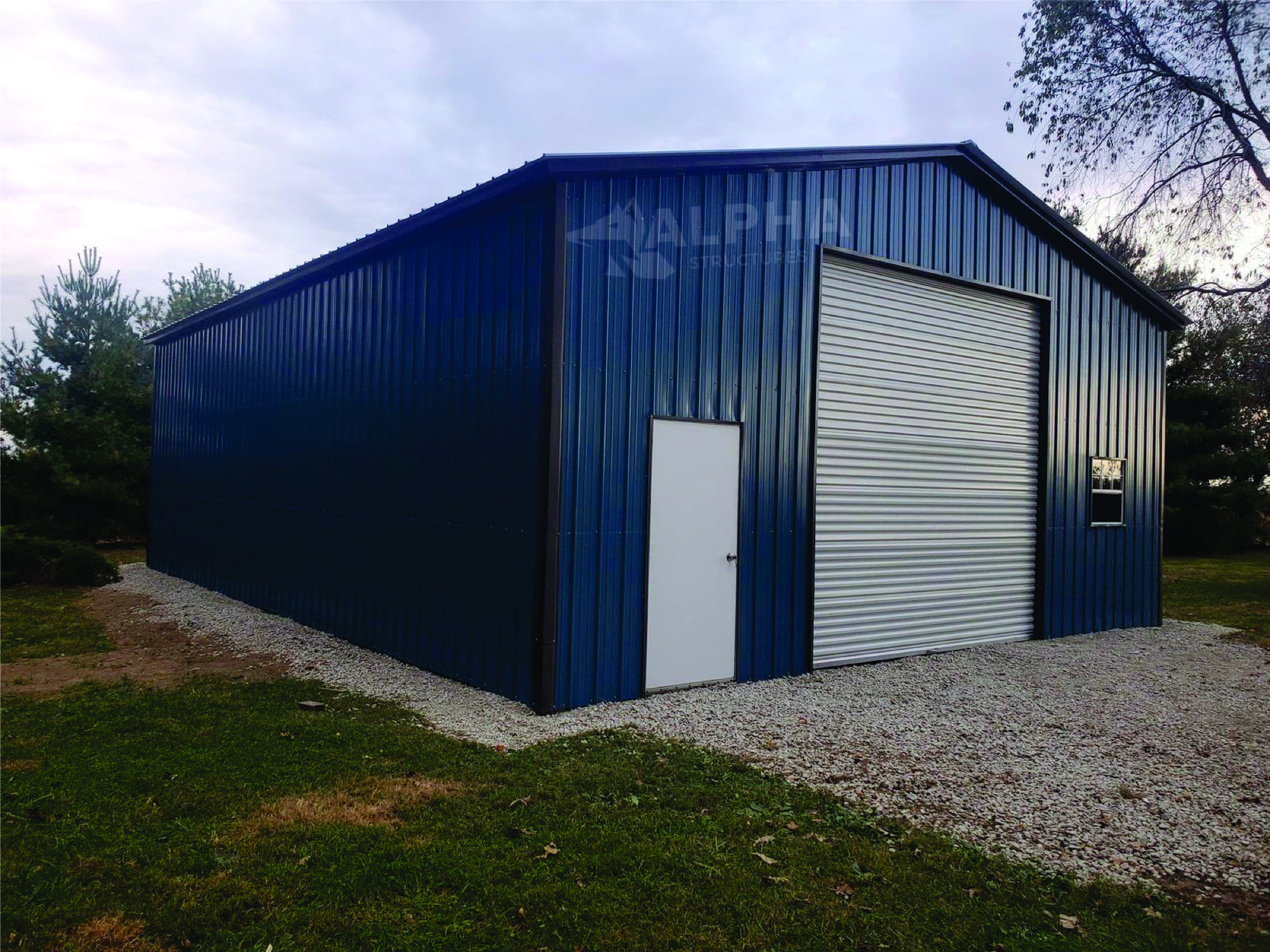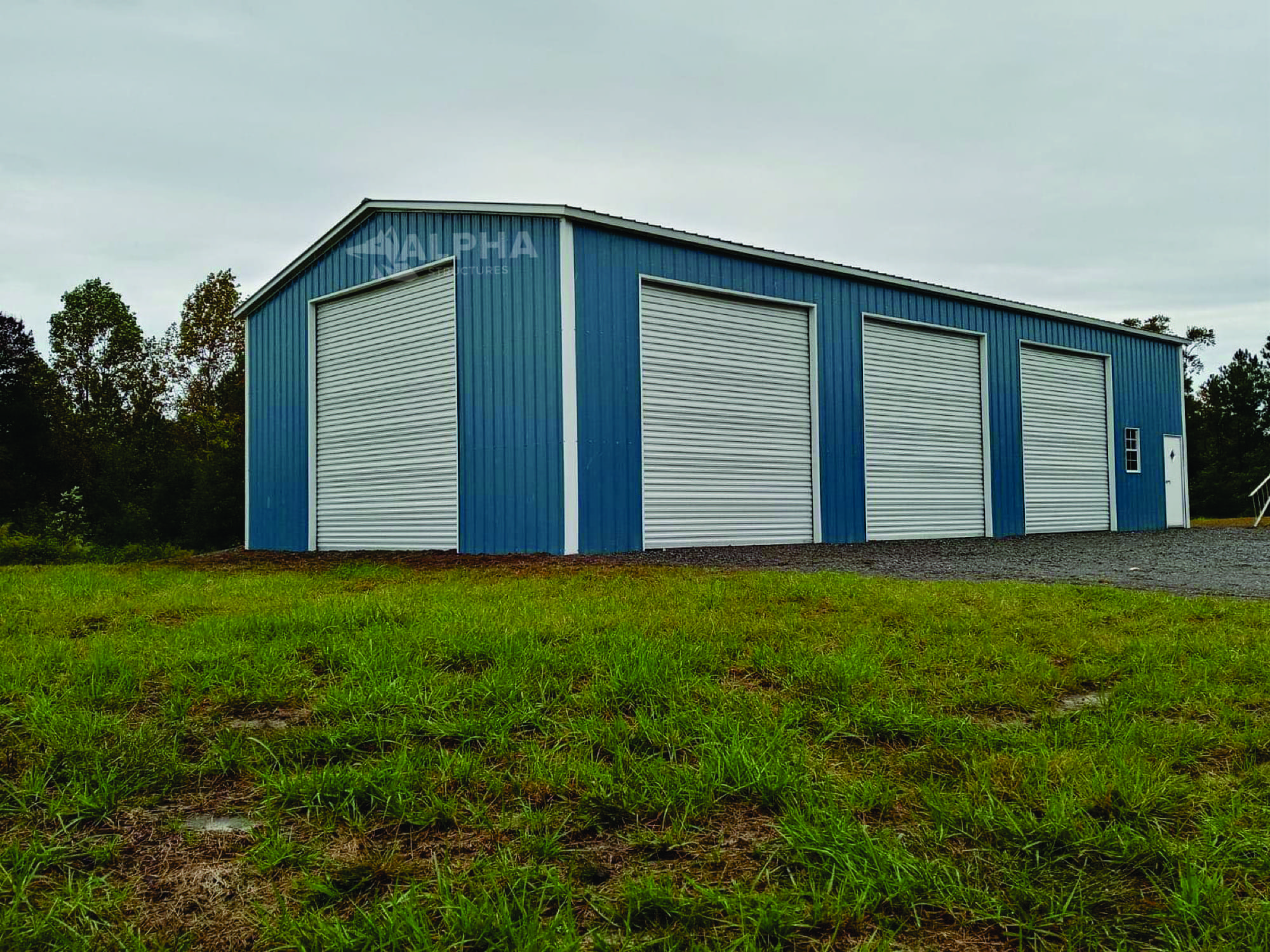 40x60 Metal Building
Never run out of room again with 2,400 square feet of well protected space. A 40x60 metal building offers enough area to store vehicles, equipment, tractors, or hundreds of boxes safely indoors. There's even enough space for a workshop or side room. From serious storage to a hobby or small business, this structure has you covered.
Metal Building Sizes
Width is the primary factor in building size. Our clear span custom metal buildings can be up to 70 feet wide and as long as you need. Wider buildings are also possible with interior support beams.
Support Beams
12' - 24' wide
Support beams on the outer walls every 5 feet (excluding doors). Clear span option available. No length restriction.
25' - 70' wide
Support beams on the outer walls every 4 feet (excluding doors). Clear span option available. No length restriction. A heavier metal gauge truss allows for extra width without the need for center support beams or compromising structural integrity.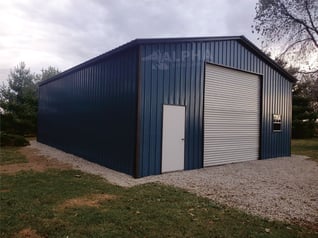 Common Building Sizes
If you're not sure of the exact building size you'll need, no problem. We work with property owners everyday to nail down the perfect balance between square footage and price for them. To get you started, here are a few examples for common custom metal building sizes.
20x20 metal building
2 car garage with limited storage space
20x30 metal building
2 car garage with additional space of lawn mower and other equipment
24x30 metal building
Large 2 car garage with extra walking space or a back room
30x30 metal building
Large hobby or small business workshop
40x60 metal building
Barn for 4-6 horses or business workshop
50x100 metal building
Industrial warehouse or commercial building
Building Materials and Certifications
Metal Storage Buildings Insulation
The metal building insulation we recommend depends on your location and intended usage. You can get up to an R-8 fiberglass batt down to a "sweat preventer" that stops condensation forming on a regular basis. Even basic DIY air sealing can make a big impact for very little cost. Alternatively, local insulation contractors can provide any level and type of insulation for our metal buildings.
Framing
Trusses and support beams are 14 gauge double coated galvanized steel. In wider building designs, 12 gauge trusses may be necessary. Weight-bearing framing is guaranteed to last 20 years without developing any rust (ask about our rust warranty for details).
Roof and Wall Panels
We offer a variety of metal panels ranging in size, ribbing, and color to best fit the structure. These panels are rated to last at least as long as the framing. Our installation teams use horizontal siding to give the buildings a distinct look. We also offer vertical siding for buildings that need extra support.
Weather Rating
Building codes vary across different regions, and we know exactly what each state requires. Our buildings can withstand 120mph wind gusts and 20psf of snow load. Even if your local codes require additional strength, we will meet or exceed them.
Building Permits
We don't work directly with local building inspection offices, but we make the process easy for you. Our team will provide all the required documents to get your building permit on the first submission. We pride ourselves on making our customers and inspectors happy with our attention to detail.
Why Alpha Structures?
You want a metal building that's tough enough to withstand the test of time and mother nature. You also want a builder that's easy to work with and responsive to your questions.

Our team will work closely with you throughout the entire process to make sure you are confident and comfortable with the final design. You'll receive a 3D model of your building before we start work, making sure it satisfies your vision.

We focus on the people we serve just as much as the buildings we put together.

Check out our reviews and see for yourself!
SERVICE AREAS
DEALERS ACROSS THE U.S.
Building codes vary across different regions,and we know exactly what each state requires.Our buildings can withstand 140mph wind gustsand 35psf of snow load. Our structures inCalifornia are rated 120mph and 20psf. Even ifyour local codes require additional strength, wewill meet or exceed them.
Get a Quote.
Need a little extra storage space? One of our sales specialists will help you narrow down the size, options, and cost best suited for you.