How to Build an Affordable Three Car Garage with Apartment Space
---
---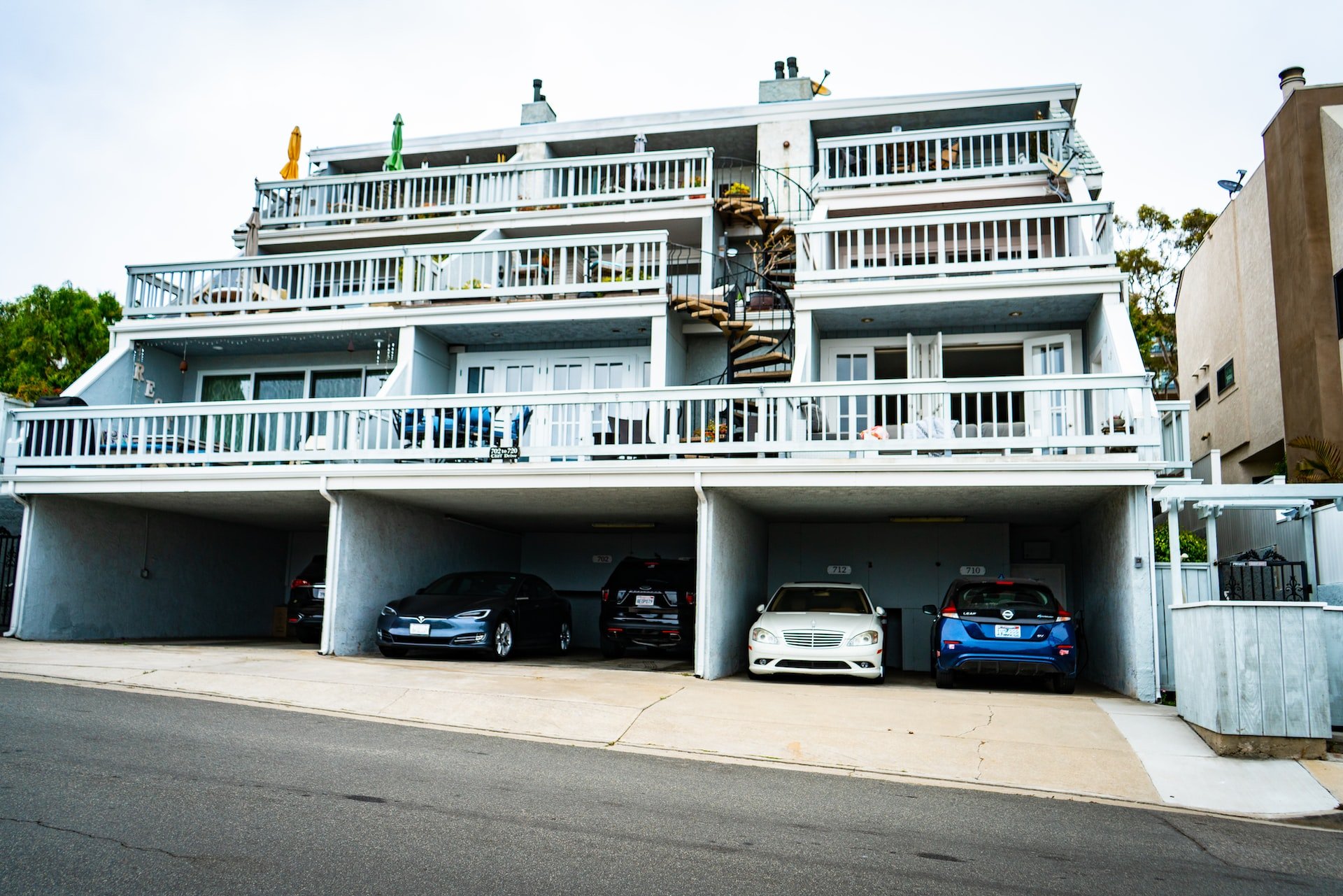 Whether you're looking to expand, increase your home's property value, or create a rental space for some passive income, a garage with living quarters is a great place to start.
Whether attached or detached, garages offer the flexibility and affordability to create an additional living space on your terms. Between construction costs, taxes, specific permit requirements, plumbing, and insulation, there are a lot of aspects to consider before jumping into your next project. Let's take a closer look at the ins and outs of adding a garage with living quarters to your property.
What to Consider When Building a Garage Apartment
The best style and layout for your garage apartment will be one that meets your own unique needs. To determine your best fit, consider your property space, any existing garage buildings, storage needs, and budget.
Construction and Costs
You've likely already found in your research that garage conversion costs can range dramatically. This is due to the near-unlimited options of improvements, upgrades, and personalizations that can be added. You also have to consider if you'll be starting from scratch, adding living space above or next to your pre-existing garage, or simply converting your garage into an apartment of its own. Since preferences and starting points can vary, we recommend building your budget from the bottom -- considering what is absolutely necessary or unavoidable (permits, fees, taxes, etc) & adding features based on any remaining wiggle room.
But before you can start planning your upgrades and improvements, you first need to decide three things:
Will this be an attached or detached garage?
What type of material will you use?
What size structure will work best for your space?
On average, United States homeowners pay around $27,576 to build just a garage. The addition of living space, including insulation, electrical wiring, and plumbing, can add on another $170-$200 per square foot.
While the many options can be overwhelming, we've lined out some of the most recommended and popular apartment garage layouts, as well as their estimated costs.
| | | | | | | |
| --- | --- | --- | --- | --- | --- | --- |
| | Type | Dimensions | Roll-up Doors | Windows | Walk-in Door | Estimated Cost |
| 30x50x14 | Right lean-to | 12x50x9 | 3 | 2 | 1 | $30,027 |
| 40x50x14 | Left lean-to | 10x50x10 | 3 | 2 | 1 | $48,471 |
Permits, Fees, and Taxes
The cost of building materials and labor will be a large portion of the expense of building your garage apartment, but there are other costs to be aware of. Depending on your state and county requirements, you will likely need to obtain a garage permit before expanding any part of your property. A building permit can cost anywhere between $50 - $300 for smaller projects like plumbing and electrical, while larger projects like building a house, construction, or remodeling can set you back $500 - $2,000.

In general, building permits are based on either a flat rate, cost per square foot, or the overall construction value. They typically take two weeks to be approved and issued. However, construction companies typically pull building permits for their customers and include any fees in their estimates. Either way, you should ensure that you remain compliant with any zoning requirements for your area since many residential areas are only zoned for single-family homes.

If you need to pull the permit yourself, you will need to fill out a building permit application, typically available at local city offices or online. You will need to prepare a site plan, and any extensive construction project will require professional drawings that prove you will meet building codes. Once you have your plan & filled out an application, set up an appointment for plan approval at your local city office. You may be required to make changes and set another appointment for additional review, or you may receive approval that same day. Once approved, you will get your permit in about 2 weeks. It's best to schedule inspections throughout the construction process, especially on larger builds, and then once the project is finished so that you can get final city approval.

Beyond the costs before your build, you will also see additional costs once your build is complete. By developing a garage with living quarters, you'll be increasing the livable square footage of your home, which in turn will increase your property tax. If you want to rent out your new garage apartment, you'll also need to claim the rent you collect as income in your taxes.

These steps can be time-consuming and confusing, especially if you are unfamiliar with site plans and building codes. Find a company that offers permit services to ease the stress of this process & ensure everything is done right.
Safety Codes for Garage Projects
After gaining the necessary permits, you'll still need to ensure your garage project is in compliance with local and national safety codes. Safety codes can vary by location and can have several qualifications and regulations.
For example, the building code requires ⅝-inch-thick fire-rated drywall on garage ceilings and walls whenever an addition is put above. Some local jurisdictions may require additional parking to be added to your property, and if the garage is closer than five feet to the property line, many codes will not allow you to build windows or doors. Floors need to be sturdy enough to comply with codes, not have any bounce, and not interfere with the functionality of the garage, including the garage door opening.
Between determining your space needs, desired layout, and any upgrades you want, considering codes and permits can be overwhelming. Working with trusted fabrication and structure companies like Alpha Structures provides that peace of mind, as they maintain all the expertise necessary to get your building installed safely and legally.
Verifying Garage Structure
If you're intending on creating additional living space above your garage, then a stable foundation is absolutely crucial. An engineer or building professional should be able to determine if the existing framing and foundation can bear the weight of an addition. Contractors will need to dig several holes to check the depth and condition of the foundation around the garage's perimeter. If the existing foundation is not enough, they will either bolster it or put in a completely new foundation, both of which are costly options. If this is a concern in general, you may be better off with a detached garage and additional living space, or even a lean-to.
Plumbing & Utilities
Whether you're considering a lean-to, detached, or above-garage addition, you'll need to consider plumbing and utilities if you intend the space to be livable. Extending any existing plumbing pipes and drains to a new bathroom above a garage can be very challenging. Further, if your home's existing wastewater drain is located far away from your addition, you will be facing significant renovation costs. In this case, it would again be better to expand your space horizontally or add an entirely new, detached structure, rather than adding it above your existing garage.
Though your existing garage is likely already on your power grid, you will still need additional wiring to expand to your livable space. Plan for lighting, a sufficient number of outlets, and any other possible appliances or electronics that will need direct power.
No matter your plan, you will need to work with a subcontractor to ensure your plumbing and electricity are installed properly and safely.
Insulation
Between the ceiling of the garage and the floor of your addition, you will need to add insulation. Any insulation you add to existing or newly built walls will help keep your new addition temperature stable as well. As with the above, there are a host of options for insulation, but you should budget for about $1 per square foot. Alpha Structures provides up to an R-8 fiberglass batt, with the basic option of a "sweat preventer" that stops condensation forming on a regular basis. More specific needs will likely need to be subcontracted.
Options for Building a Garage Apartment
Now that you have an idea of your budget and materials, it's time to put them to use! Each option below has its perks, from affordability and compact space to flexibility and rental appeal.
Single Car Garage Apartment
A single-car garage apartment is the most affordable and least time-intensive option, and it provides for a flexible sleeping arrangement and guest accommodation. Because a single-car garage apartment is the most compact choice, it works for the broadest variety of homes.
Two-Car Garage Apartment
A two-car garage apartment expands your available space and may be the best choice if you are looking for an affordable option that gives you space for a vehicle, storage, and living space. Because of increased square footage, a two-car garage apartment is a more appealing rental option as well, which is something to consider in your budget.
Three-Car Garage Apartment
A three-car garage apartment not only adds to your home's value but gives you plenty of flexible living or storage space in addition to housing your vehicles or equipment. While it is the most costly option in most cases, it has the potential for the greatest financial returns. It's a great option to rent out, and if you choose to sell your home in the future, it is a development that makes your land that much more attractive.
Get Started Building Your Garage
If you're seriously considering a garage with apartment space, the name of the game is options: size, materials, uses, etc. -- the list of choices that you have to make is a long one. On the other hand, there are some non-negotiables. Finding a team that will address the permit, safety, and necessary plans of your new structure is a must. Fortunately, the Alpha Structures team has your back, and with years of experience building and customizing structures for diverse clients, our contractors are the perfect choice to bring your plans to life.